Add an additional Social Impact Indicator in the Outcomes section of the report builder
If you have received feedback to add social impact indicators in your report, you can update the selected indicators in the Outcomes Relevant section of the report builder.
In the To Do page of your True Impact account, click on the green Edit button next to the report that needs to be updated.
In the left sidebar, click on OUTCOMES and then RELEVANT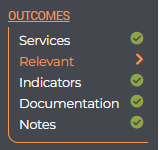 Click on the "Succeed" section of your logic model. Review the indicators selected and click on any unselected indicator you'd like to add.

If you'd like to add an additional indicator not already in the list, click on the green Search for Additional Social Impact Results button at the bottom of the page. (Scroll Down to find the green button below)

Search for the new indicator by keyword. Once you've found the indicator you'd like to add, select it and click "Add all selected indicators."

Select your added indicator to include it in your logic model.
Click the Save and Next button to save your updates and move forward to the Outcomes Indicator section of the report builder.
Populate your new indicator with 1. how you define success, 2. how many you expect will achieve that success, and 3. how you know or measure that success.
By clicking the Save and View Impact Receipt button, you'll be able to view how your donor sees the new indicators in your model.